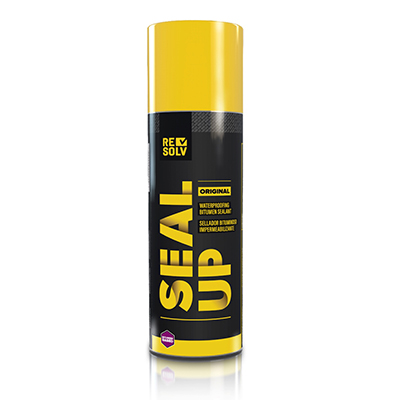 Original (Black). Waterproofing bitumen sealant.
---
Innovative 3 in 1 product: repairing, sealing, waterproofing.
SEAL UP® Original distributes liquid bitumen which spreads into cracks.
Used for sealing water leaks on roofs, rain pipes, roofing tiles and patios.
Adapts to any substrate (wood, metal, plastic, cement, etc.) and any type of forms, conditions and application.
Prevents the penetration of humidity into the treated surface.
Resists even extreme conditions: rain, wind, sea water, etc.
Excellent resistance to corrosion ("salt spray test" > 800 hours).
Covers up to 21sqft / 2m² depending on layer thickness.
Surface dry within 2 hours and completely dry after 12-24 hours depending on layer thickness.
Remains flexible and can be painted without any problems.
Suitable for gaskets, PVC or metal tubes, ventilation outlets, car bodies, scaffolding, cracks in walls, etc.
Long-lasting protection, anticorrosive and anti-scratch properties.
Primarily for external protection.
Bridges, roofs, pillars, steel structures, tanks, frames of agricultural machines, bodywork, etc.
Waterproofing and protection of concrete or cement surfaces.
Protection of materials in ports or in the railway industry.
Etc.
Surface must be clean and dry before product application.
Shake can well for 60 seconds.
Spray onto surface to be treated and on adjacent areas.
Apply multiple layers.
Apply during the cooler hours of the day.
Store the product cool and not in direct sunlight.
After usage turn can upside down and spray until nozzle is empty.